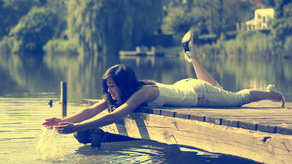 The things that are just bathed in the season...
1. Long hair, it's fate left to the wind, chlorine, and the salty water of the ocean; washed at night, brushed never.
2. Feet callused by long walks on the beach.
3. An endless menagerie of music that will always remind you of some memory or other.
4. Hardly a day planned out, yet hardly a day spent unfulfilled.
5. The urge to travel, followed shortly thereafter by the reluctance to leave home. This changes after each vacation.
6. Camping.
7. Late nights--parties, parks, and people.
8. Concerts. Of all kinds.
9. Waking up to bright sunlight, a gently buzzing fan, and an empty house.
10. Long drives with the top down.
11. Secrets created and secrets divulged.
12. The Beach Boys [[duh]]
13. An extreme absence of musical theater.
14. Spending time with friends not seen for much of the school year. (Not sure why, but this always happens.)
15. No new boys, just new feelings.
16. Coconut sunscreen.
17. Hours upon hours of manga and television.
18. Buying new school clothes.
19. Reconnecting with old aquaintences.
20. BBQs
21. Family <3
22. Peace.
23. An abundance of short stories, all romantic, none exceptional.
24. Listlessness, daydreams, and a longing for romance.
25. Sitting in one's driveway from dusk until the stars are out.
To be continued...